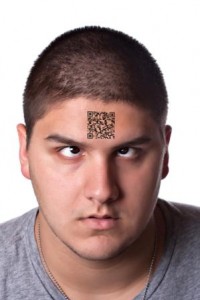 This is the last of a 3-part series on QR codes.
Part 1 covers What Are QR Codes and Why Should We Care?
Part 2 got into the fun part How Do QR Codes Work and What Do You Need?
This last part wraps it all up with the Good, the Bad & the Ugly about QR codes.
The Good
These little bite-size squares of information do have good features.
They can pack a lot of information in a small space
They are simple to use and create
They can be used in multiple ways
Shrink-wrapped Squares
I have a theory that the decline of my memory skills is not really a decline at all.
There's just too darned much information
That's my theory and I'm sticking to it
Based on that theory, anything that shrink-wraps a bunch of information for use later is a good thing.
There's a potential of storing up to 7,089 characters
That's over 50 fewer maxed-out Tweets
And you don't need to rent storage space. Just tuck those squares into the corner of your smartphone's QR code reader.
Keep it Simple
As described in Part 2 of the series, capturing a QR code or creating your own is simple – I am living, baby boomer proof.
If you can operate a point-and-shoot camera, you can retrieve QR codes
Creating your own QR code is as simple as filling out an online form
Let Me Count the Ways
Part 1 of the series offered some examples of how you can use the codes. You are only limited by your own  creativity.
Here are some quick ideas.
Business cards – seems to be one of the most popular for storing your bajillion social media contact information, your bio/resume, portfolio or customized landing page
Internal communication – agendas to meetings, meeting presentations
Travel information– schedules, maps, boarding passes, guides to sightseeing attractions, put it on luggage tags or affix it to the inside in case the luggage is lost
Coupons – discounts, free stuff for your services or products
Product information – place it on a display with a link to a site with more detailed product information, review, price comparison
Package labeling – want to know more about that fine wine or box of candy you received? Scan the code and be directed to the company's site or use the code label for identifying prescription drug side effects or giving medication instructions
Shopping cart – scan to add products from magazine (or wherever) to online shopping cart or PayPal
Print communication – add codes in print ads, magazines, direct mailings that link to products and services, contact information, blog/webpages, YouTube videos
Event activity – engage audiences at meetings by planting codes in material and rewarding those that find the hidden messages, screen them on t-shirts, name tags
Campaign information – put QR codes on posters, flyers, direct mailings to link to website with campaign information, surveys
Customer service – you can create a code that places a phone call to your business
You get the idea. If you can link to it, the possibilities are endless.
By the way, there are ways to track the use of QR codes, but we'll leave that for a post for another day. No point in using marketing strategy you cannot monitor.
The Bad
Before you think I totally drank the Kool-Aid, here are a few bad features of QR codes.
Not Ready for a Kodak Moment
Not everyone in the world has a smartphone with a camera. Believe it or not, some people use mobile phones for – well, making phone calls.
And brace yourself – there are people who do not have webcams either.
I know, shocking.
Square Pegs
Besides those individuals with not so smart phones, there are plenty of people who are not what you call early adopters.
Some hate technology
Some hate being like everyone else (I see that person in the mirror every day)
Some don't know the codes exist
Some know they exist, but don't know what they are
Some just don't care
They might be square in your eyes, but that doesn't mean they will embrace the square technology.
Technology Trip
No matter how great the planning, technology fails.
A QR code reader doesn't play nice with your smartphone
The quality of the code prevents scanning
The links do not work
Test everything and always have a Plan B.
Do you want to find out after you get to the airport that your QR coded boarding pass doesn't work?
The Ugly
Most of the codes themselves aren't terribly attractive.
We did find out in Part 2 that there are sites that offer options for color and format.
Use your creativity (or hire a creative sort) for your codes
Don't slap the code just anywhere over a graphic in a print ad – like the middle of the model's forehead
Consider the size of the code image – don't make it so large that a person has to move to the next county to capture it
Snapshot
Consider if your website, landing pages or other information contained on QR codes are mobile-ready. Not many of us design our sites for viewing on the small screen of a smartphone.
There are various sites, like mobiReady, where you can test your site.
The Really Ugly
In a world of spammers and scammers, do you honestly believe someone hasn't developed a really ugly side of QR codes?
Are you sure you know where that code is linking to?
How secure is that data?
Should we be concerned about privacy?
When it comes to privacy, I'm pretty much of the mindset that it's like closing the barn door after the horse has escaped.
Our information is everywhere, but I hate making it simple for the bottom dwellers.
Jury Still Out?
Knowing me, I doubt I will go hog-wild on this not-so-new technology.
I like knowing about it and will probably give it limited use.
What about you?
Do you use QR codes or plan to in the near future?
====================
This is the first topic of seven from my What I Want to Learn list. It's another round of practice what you preach. I have to stop preaching! I hope you enjoy the series. I would love your feedback.
=====================
Helping you Keep it simple, clear & uniquely yours – contact me for help with your business writing needs.
=====================