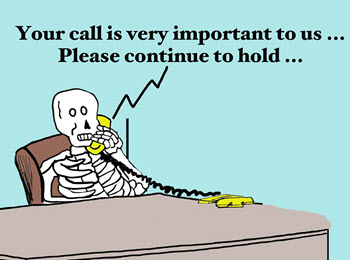 Be honest. You expect to receive lousy customer service. Right?
Sure, you hope you'll be surprised. But, how often are you?
Customer service is an equal opportunity offender.
It doesn't matter what size the company, businesses often seem to get it wrong.
There ought to be a rehabilitation program for lousy customer service.
Think of lousy customer service like a broken leg. You want rehab to increase flexibility, restore mobility, and to build strength. How can you do that for customer service?
Increase Flexibility
The cast for a broken leg provides support and prevents further injury while the bone heals.
Individuals complain about the stiffness of their leg when the cast is removed. Rehabilitation helps increase the flexibility in muscles gone lazy.
The same can happen to customer service.
Arthritic Rules
Management creates rules for structure and support. That's not a bad thing – if you remember to remove the cast of rules when it makes sense.
For example, think about child-proof caps on prescriptions. Makes sense, right?
Now, think about my 93-year-old mother with her arthritic hands. Does it make sense to have child-proof caps on her prescriptions? Hardly.
One pharmaceutical company changed the caps with a signed waiver from my mother. Another company would not do it because that was "the rule."
I am sure somewhere along the way, someone sued a big bucks company for having a pill bottle a child could (or did) get into. Result? Child-proof caps for everyone. Even if it doesn't make sense.
Inflexible rules lead to lazy, lousy customer service.
Click To Tweet
Restore Mobility
Few people have a cast off one day and go out running the next. Okay, bad example. Runners are their own breed.
However, for us mere mortals, we may need rehabilitation to restore mobility.
Nothing freezes customer service faster than front-line employees with no power.
Empowering customer service takes many forms.
Giving representatives the authority to make exceptions
Training them to recognize when exceptions work best
Rewarding those who identify obstacles to good service
Allow me to give you an example. A certain insurance company (that shall remain nameless) issues Medicare supplement plans. When open enrollment season began, the Medicare beneficiary received no notice regarding the premium for the upcoming year.
Luckily, the person had a brilliant daughter who knew a thing or two about insurance.
The daughter called Cigna (oops, did I say that?)
She asked for a letter regarding the premium
She learned there would be no increase on January 1
"Great," she replied. "When can we expect a letter stating that?"
"We only send letters when there's an increase," was the reply
Think about that. If you have a subscription/membership/whatever that renews every year, don't you receive notification of the fee? Even if the fee remains the same?
The dutiful daughter explained the need for something in writing that shows the premium for the new year so they could make a claim to a Health Reimbursement Arrangement (HRA) for premium reimbursement.
Again, the request was denied.
Why? Because that's the way their system was programmed and there was nothing the customer service representative could do about it. At least, that's the impression that was left.
When is the last time you had a company tell you a fee would be assessed but they couldn't put that in writing? But, don't worry. It's not going up. Ohhhh…so just trust you?
The premium increased effective 2/1. At least we got our darn letter then.
Empower customer service to identify - not create - obstacles to good service. Then act on it!
Click To Tweet
Build Strength
Have you heard the saying, "You're only as good as your word"?
Business is all about trust.
When trust is broken, the rehab time for building it up again is lengthy. Trust may never be restored.
Empty promises can be even more frustrating.
For example, I recently replaced my Fitbit tracker. Like some cosmic joke, it totally crashed a few months after its year warranty expired.
I purchased a new one but sent an email to the company to provide feedback on the problem.
Customer service did the right thing. They apologized and thanked me for my feedback. What followed next wiped out any good feeling I had.
Customer service knew I ordered a new tracker
They offered a 25% discount on a new product
I asked if they could apply that to the tracker I just purchased
The response? No, I'm sorry we cannot do that.
Did they have to offer me a discount? No. My old tracker was past the warranty.
However, what sense does it make to offer me a discount on something I won't need for AT LEAST another year?
In one inflexible, unempowered moment, customer service destroyed my trust. Sure, it wasn't the individual. But, who is the face of the business?
You can't build trust with empty promises.
Click To Tweet
Good Customer Service
I hate painting a bleak picture. There are businesses that know how to do customer service right – like those I shared in this post.
In a future post, I'll share some examples of good customer service. You may be surprised at how simple it can be.
Whether you are a business of one employee or thousands, customer service is what makes you stand out. Why not make it great?
Be flexible when it makes sense
Enable smart decisions
Strengthen promises
What stories do you have?
====================
Helping you Keep it simple, clear & uniquely yours – contact me for help with your business writing needs.
=====================