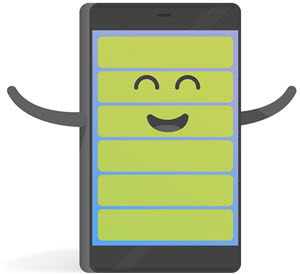 Do you remember the last time customer service made you smile?
You hear plenty of horror stories. I'll bet you have more than a few of your own.
That's why we applaud when customer service goes right. It's like finally winning a game after so many misses.
Good customer service helps you forget the misses.
Click To Tweet
Well, at least for a while.
I shared some of my lousy customer service experiences. Being the Pollyanna I am, I wanted to prove it's not all bad.
Customer service heroes do exist.
Customer Service Heroes
For this post, I asked a few of my writer buddies for their examples of good customer service. They were happy to share their stories.
Thanks to Anne Wayman, Paula Hendrickson, and Sharon Hurley Hall for the help.
Heated Response
Picture yourself on a Caribbean island. Nice picture, isn't it? But it can get a tad warm, especially for senior citizens.
A local auction company advised two seniors they would be able to accept their furniture between 9 a.m. and 3 p.m. When the seniors arrived at 10:30 a.m., there was no one at the business. Sweltering in the sun, the seniors had to make other arrangements.
Another company responded to their call, confirmed they would be happy to take their furniture, and were there to help take the furniture off the seniors' hands.
A commitment is more than words. It's a sacred promise to customers.
Click To Tweet
A Great Ring Tone
Anne believes Ting.com "…may have the best customer service in the world." How's that for high praise?
The cell phone service company proclaims – People ♥ Ting – on their website. Anne sure does.
Recently, Anne purchased a used smartphone. It's not her primary communication source so when she does use it, she often has questions.
Resolving Anne's issues is Ting customer service's primary concern. They clearly communicate that each time Anne calls.
No rush – Representatives address each of Anne's questions – she never feels rushed through a call
Step-by-step instructions – Some have searched for an exact model of the smartphone's old operating system so they can give Anne step-by-step- instructions
Follow-up – They even follow up when Anne needs to take a step on her own – just to make sure it worked out okay
See what happens when customer service cares about the caller's experience?
Social Media Save
This next example may be more an illustration of the power of social media than good customer service.
After a significant increase in her cable bill, Paula contacted customer service. The representative transferred her to the Customer Loyalty Department.
Loyalty should count for something, right? Apparently, the representative who took the call did not understand the concept.
Her only solution was Paula moving to a lower tier for a better rate – regardless if that meant eliminating some of Paula's favorite channels. Paula found that to be an unacceptable option. Most of us would.
Time for a Twitter rant. Responding to Paula's Twitter complaint, the social media representative asked Paula to send a Direct Message with her account number.
Within 20 minutes, Paula received a discount of $10 per month for two years. Two years! Now, that's how you value loyalty.
Rewarding loyal customers is worth far more than any rate increase.
Click To Tweet
My Own Customer Service Hero
Doesn't it seem like the bigger the company, the worse the customer service?
Who hasn't been ignored by a giant tech company when you need help figuring out a problem?
How often do you need to make multiple follow-up calls because the representative did not do what he or she said they would?
I so love finding exceptions.
One large company stands out for me as the poster child for good customer service – Amazon.
Jeff Bezos probably wouldn't like the analogy, but for me, Amazon is the Google of online shopping. Think about it.
What is the first thing you ask when someone wants to know something – Did you Google that?
What is your response when a person is trying to find a certain product – Did you check Amazon?
See what I mean? That's a heavy responsibility.
Amazon simplifies returns and refunds – even with incidents beyond their control. The following is just one example.
My sister sent her son a Christmas gift
His third-floor house rental only has a mail slot for deliveries
The carrier left the box on the front porch
You guessed it. Thieves took the package. They were kind enough to leave the empty, destroyed Amazon box next to my nephew's vehicle. Talk about rubbing it in your face.
After contacting Amazon, customer service helped connect her with the post office and refunded my sister's payment. Unfortunately, the unique gift was not recovered but at least she appreciated the caring response.
I'm sure Amazon customer service has horror stories (like its Amazon Logistics delivery service). However, when you have a history of shipping 608 million packages in the U.S. alone, you are bound to hit a bump or two.
Traits of Customer Service Heroes
Customer service is not rocket science. Yet so many companies complicate the service.
The above examples illustrate simple traits that lead to better customer service.
Good customer service listens.
They put customers first.
The company honors commitments.
Simple,right?
Who are you customer service heroes? Share your stories in Comments.
====================
Helping you Keep it simple, clear & uniquely yours – contact me for help with your business writing needs.
=====================