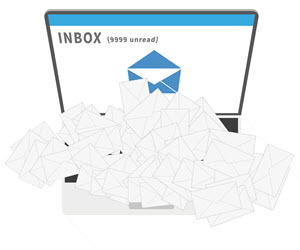 How many business offers do you receive in a day?
Requests from PR firms
Invitations to collaborate
Guest post pitches
And on and on. The right offer – done the right way – is good business strategy.
But, how often have you been on the receiving end of lazy marketing tactics? Doesn't that drive you nuts?
In a two-part series, I'll share examples of various marketing tactics I've experienced or observed.
This first post focuses on lazy marketing tactics
The second post shares examples of good marketing tactics
Lazy Marketing
The following is how our friends at Merriam-Webster define lazy. I circled the version used for purposes of this post.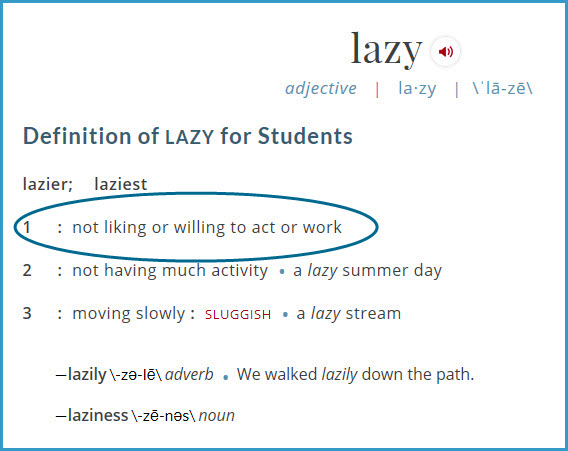 See if you relate to any of the following five lazy marketing tactics.
#1 – The Did Not Do the Homework Tactic
When Bobby was a child, he hated homework.
Bobby often conned his brother to do it for him
Bobby's typical tactic was some form of blackmail
Do it or I'll tell Mom who really broke her flower vase!
Then Bobby grew up (sort of). He became Bob, co-founder of a small business for new game apps.
Bob hated marketing
But his company was too small to hire marketing professionals (and who needed them anyway?)
Bob would tell everyone he met at the game conference about all the cool features of their latest app
Others may have been embarrassed to pitch the features to Bob's #1 competitor. But not Bob. How the heck was he supposed to know who the guy was?
Do your target market homework if you want to pass your initial test.
Click To Tweet
#2 – The Scattergun Approach
This lazy marketing tactic is the birth child of #1.  Because Bob didn't do his homework, he had no real target for his marketing.
Bob sprayed everyone he came in contact with
His email campaigns included most living, breathing humans
Bob figured with such great odds, some of those pitches would stick
If you're a blogger, you have probably been the recipient of scattergun marketing.
For example, I receive public relations (PR) press releases – multiple times a day. Typically, the pitches I receive are a marriage of not doing the homework and the scattergun approach.
Most PR pitches have NOTHING to do with my business
I think the "reason" they often send them is because this blog has the term "business" in its name
Business? Close enough!
At one point, I became so frustrated by these pitches, I posted the following tweet (recreated – not the actual tweet). Not surprising, it had little (if any) effect.
Scattergun marketing wounds more people (with long memories) than captures the market you want.
Click To Tweet
#3 – The Partner Without Benefits Approach
Are you flattered when others want to partner with you? You could be if they remember it's not all about them. Even worse, are those who think you cannot see through their "win-win" arrangement.
Most freelancers will relate to the following story.
So much for a "win-win" situation.
Another example is this recent inquiry I received through my contact page. Perhaps if I felt my potential "partner" understood my business a bit better, he could draft a winning offer.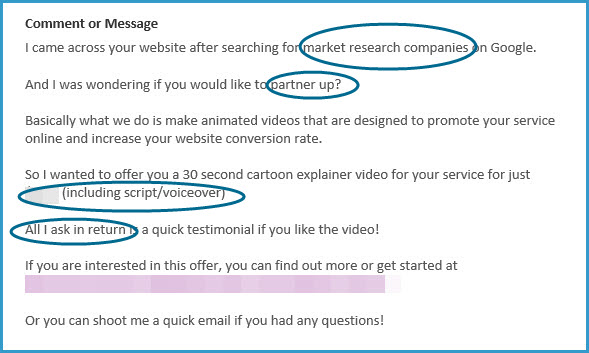 Market research companies – I would love to see the circuitous route he took that landed him on my business communication site. I suppose it's possible, but a quick look around would show my business is not a market research company.
Partner up – Well, howdy, partner. Let's see what you offer.
Cartoon explainer video – Although the price I blocked out is 3-digits, I will admit it's much lower than the "going" rate. What was interesting to me was the notion that I (as a business writer) should pay someone else to write my script.
All I ask in return – Only a quick testimonial? Uh, what about the 3-digit cost to create the video? While a great discount, it's not chump change.
Writer nitpicking – If I HAD any questions, does that mean I don't HAVE any now?
Your collaboration offer should not tip more your way than your B2B partner.
Click To Tweet
#4 – The Technology Trap
Technology tools that make life simpler are a marketer's dream. They deliver your message faster, more efficiently, and to a wider audience.
But, technology fails. Adding technology is not an implement and forget solution.
Dear [insert name] – well, that certainly makes me feel special
Do not reply to this email – we don't like it when people contact us so we're not going to tell you how you can
Artificial Intelligence (AI) – AI transforms customer service – whether that's a good thing depends on how well the humans manage it
Technology tools + lazy marketing = annoying results
#5 – The Empty Promise
All businesses experience hiccups in service. How the business handles the missteps influences whether a customer remains loyal.
If you offer something the customer does not want or a response that feels patronizing, you deliver an empty promise.
Think about a bad customer experience you had. Perhaps the business offered you a discount on your next purchase.
How did you feel?
Satisfied?
Or more ticked off?
Sometimes, even money is not the answer.
"Discounting is very lazy marketing. Certainly, there is a time or place for it …but, really the more interesting part is what makes people tick…"
Take the time to learn what people want.
What Ticks You Off?
I try to stay positive. Really. But, sometimes you need to vent. So, here's your opportunity.
What types of lazy marketing have you encountered?
Share your examples in Comments
I promise the second part to this two-part series will be more uplifting. So, gather up your good marketing examples and we'll meet back here soon. Deal?
====================
Helping you Keep it simple, clear & uniquely yours – contact me for help with your business writing needs.
=====================