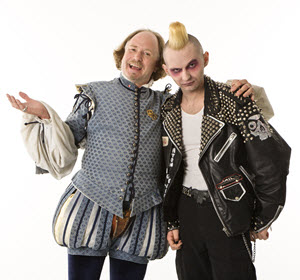 Have you seen the commercials about a mom's over-protective nature toward her first child?
By the second child, Mom relaxed the tight reins.
When it comes to your business, do you feel like the first-child mom?
The business is your baby
You've nurtured its reputation
You take care in its branding
That's why turning the reigns over to someone else is not easy. You need the comfort level of the second-time mom to outsource any part of your business.
So finding the right business writer for communication projects is a big deal.
This is the second in a two-part post series.
The first post offered tips for determining if outsourcing business writing makes good cents.
This second post provides 7 tips for finding the right business writer.
Let's see if you can find that comfort level. The infographic below is an overview of the 7 tips.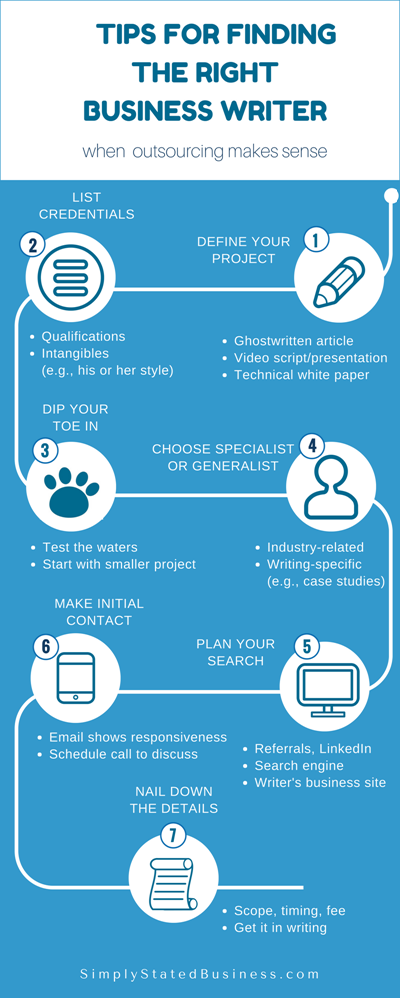 #1 – Define your project
What do you need help with? Before you can determine if it makes sense to do the project in-house or outsource it, you need to know how much time and cost is involved.
Think 3 Ts for defining projects.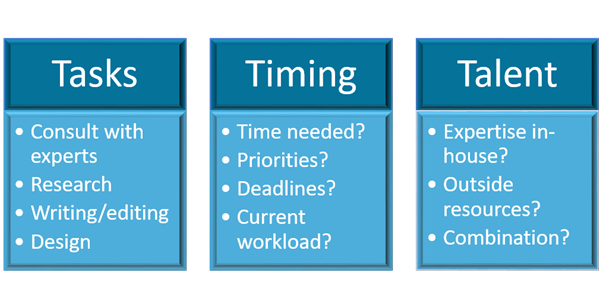 You may decide to keep some tasks in-house and outsource the rest. Or you could choose a different project.
Unexpected factors may affect your decision. For example, what would happen if the person who normally writes your blog posts goes out on disability?
Can other staff members fill the void?
Do they have the necessary skills?
Or would it make sense to outsource posts?
Defining your project helps identify the critical components of success.
#2 – List credentials
Remember, your business is your baby. A two-time mom may relax control but she does not compromise on the important stuff.
Think how you advertise and interview for a position within your company. Is the process all that different?
What qualifications are important to you in a business writer?
How critical is technical knowledge of your industry?
Does the project beg for a great storyteller?
Keep an open mind. There could be times when you can teach the writer what he or she needs to know for the project. On the other hand, other projects benefit from that inside knowledge.
Example #1
I specialize in health care and the employee benefits industries. You may have heard – it's complicated.
A prospective client approached me about creating articles for their newsletter.
Target market – brokers who sell to employer sponsors of benefits
Current article writer – marketing firm that designed client's website
Client's complaint – the articles had a journalistic slant – the marketing firm did not "get" brokers
The marketing firm had done a great job on the website. However, their lack of industry knowledge caused a disconnect between the client and their target market.
My inside industry knowledge was a major reason this prospect became my client.
Example #2
Casey Hibbard has made a career of specializing in case studies (or success stories). Casey proves the theory that the telling of the story can be more important than possessing technical knowledge of the industry.
A writer skilled in interviewing, research, and storytelling excels in case studies – no matter the industry. Some writers specialize in other areas, like white papers.
I am not proposing you need a specialist for each type of communication. I'd be shooting myself in the pocketbook. However, review the writer's specific experience.
Look for a business writer who is the right fit for your business in both skill set and the intangibles.
#3 – Dip your toe in
You may prefer using the services of a single writer – or you may have a network of writers.
By narrowing your project scope, you can test the waters when looking for a business writer for the first time.
For example, you decide you want a ghostwriter for industry articles. Because your name is on the byline, it's important that the ghostwriter captures your message and style.
Dip your toe in with the new business writer
Contract initially for only one article
See how it works without risking a large amount of time or money
When you find the ideal business writer, negotiate for ongoing projects.
#4 – Choose a specialist or generalist
Take almost any subject, and someone developed a niche for that subject. As discussed above, the niche can be industry-related or writing-specific.
You decide how important the niche is to your need. Would a skilled generalist writer accomplish what you are looking for?
It's like deciding between a primary care physician or a specialist. If you love your family doctor and you are not having brain surgery, the services of your primary care doctor more than satisfy your needs.
#5 – Plan your search
You are now ready to start your search (phew – about time).
The internet has made that task much simpler. You have several avenues available to you, including the following.
Referrals
Outsourcing to an independent writer has become an effective productivity and marketing solution. As a result, it is easier to find business associates who hired an independent writer.
Referrals are pure gold for finding the right business writer.
Check with your business network for recommendations for an independent business writer.
LinkedIn
You can do a search in the Search bar at the top of each page
Narrow your search by doing a Boolean Search on LinkedIn
For example, enter Freelance AND Business AND Writer – results also bring up variations on the three terms
If you are one of the fortunate few who participates in a LinkedIn Group that actually networks (instead of selling), then check with members for their recommendations.
LinkedIn introduced ProFinder for businesses seeking freelance or independent professionals.
From my biased position, I don't think ProFinder necessarily brings your best match from the pool of LinkedIn members. Read my 2-cents review at LinkedIn ProFinder Misses a Major Freelance Concept.
Search engine research
Using your favorite search engine works best if you have specific qualifications. Otherwise, you find yourself wandering through a black hole of writers.
For example, putting in the phrase business writer in Google produces about 272 million results. To refine your search, click on Google's Settings drop-down menu and select the Advanced Search feature.

You can add additional terms, exact phrases, or other parameters to narrow your results.
Review websites/blogs
Don't you love when you get a sneak peek of a movie or book? It helps you decide if you want to spend your money.

You can receive a sneak peek of writers' writing style and the services they offer. Simply visit their business websites and/or blogs.
Typically, a writer's site contains a portfolio of work. So, take the time to look around to find those "intangibles" on your list.
#6 – Make that initial contact
Congratulations! You have a name or names of writers you are interested in pursuing.
I recommend you make the first contact in writing.
Putting the contact in writing helps clarify the scope of the assignment
A written query is a good way to determine how responsive and professional the writer is in his or her reply
It also demonstrates a respect for each other's time
If you like the writer's response, schedule a follow-up call. Set aside a specific date and time.
Follow-up calls pull up the shade on the intangibles you are looking for in a business writer.
#7 – Nail down the details
The detail that receives the most focus is the fee. Business writers handle fees in a number of ways.
An hourly fee
A project fee
A per word fee
Or some combination
Whatever the arrangement, it is good business to have the agreement in writing.
Experienced writers know this and have formal contracts. Typically, the contracts include the following.
Scope of services
Timeline
Fees
Terms of the contract
Making It Right
Like that second-time mom, you are okay getting help with the business that is your baby. But you do your homework first.
Conduct a dollars and cents analysis.
Choose your business writing project.
Find the right business writer.
You could be on your way to a long-term business relationship. What questions do you have for finding the best writer for your business communication?
Note: This post was originally published on April 22, 2010. I've updated it with new resources and ideas for your reading pleasure.
====================
Helping you Keep it simple, clear & uniquely yours – contact me for help with your business writing needs.
=====================