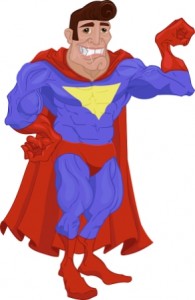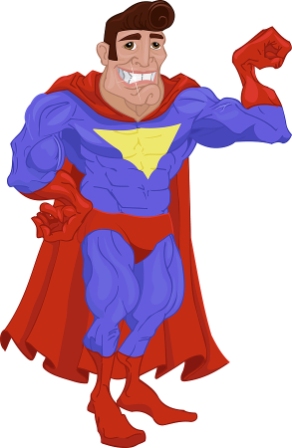 Growing up, Superman was my favorite superhero.
I'm talking about George Reeves.
Not Christopher Reeve
Or Dean Cain
Or any of those who followed
It was an era of black and white TV and, in retrospect, comical special effects. But, to a child, Superman's powers mesmerized.
How would those superhero powers translate into business?
Power #1 – Flying
Who wouldn't want flying powers? As a child, I had a recurring dream of flying. I told you I loved Superman. Imagine what you could do with your business if you had the power of flight.
You could make a really cool entrance to a networking event
You could fly above any business situation and spot trouble ahead
You'd never have to deal with rush hour again – oh wait, that's called freelancing
Power #2 – Speed
Faster than a speeding bullet, you would beat all competition to the finish.
You'd be the first in line every time
You'd burn up the keyboard with your speedy text
You'd have speedy answers and faster results
Power #3 – X-ray Vision
Talk about seeing all the solutions. You'd be a walking, mobile MRI for businesses.
You'd see through every gimmick
No closed door could shield industry secrets
You'd get to the source of every problem
Power #4 – Heat Vision
Not only can you see through anything, but you can fry circuits with your eyes, too. Oh, be still, little devil sitting on my shoulder – ah, the possibilities.
You could be your own energy source and never need another charger
You'd laser in on every problem and destroy the competition
You'd snuff out global warming (in case you worry about my use of power)
And you'd drop spammers in their tracks
Power #5 – Super Hearing
Baby boomers rejoice. All those years of old time rock-n-roll would not take their toll.
You'd hear conversations across a crowded business event
While your x-ray vision works on the closed door, your super hearing tunes in
You'd hear the mumbled musings of geniuses at work
Dream or Fantasy
Sometimes we think of business goals as a dream, or even fantasy.
Lest you think all of this is just a dream, consider this quote from psychologist, Carl Jung, who knew a thing or two about dream analysis.
"All the works of man have their origin in creative fantasy. What right have we then to depreciate imagination?"

Carl Jung
Could happen, right?
Who is your favorite superhero?
What superhero powers do you wish you had?
How would you use them for your business?
=====================
Helping you Keep it simple, clear & uniquely yours – contact me for help with your business writing needs.
====================