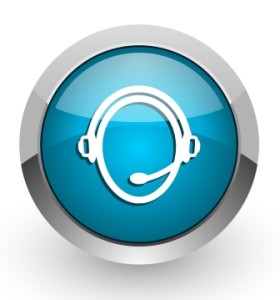 At times, customer service appears to be an unlikely pairing of words.
Unless you equate "service" to do-it-yourself.
Our self-serve world includes self-serve solutions.
Forums of users in the same turbulent sea of need
Customer service agents without answers
Frequently Asked Questions that do not fit your problem
The business that stands out is the one with great customer service.
Unfortunately, that may be true because good customer service is so hard to find. Knowing how to respond elevates your business to elite status.
Positive Customer Service Words
The words you use have a powerful impact on your customer's impression of your service. Staying positive is easy when you receive a compliment or encounter a smiling customer.
You're challenged when your business is the recipient of a social media slap. Or an angry caller.
Whether the complaint is fair does not matter
Your response does
The following are 3 thorny tirades with suggested positive customer service responses.
#1 – The Social Media Salvo
Social media supplies a hard-hitting arsenal for sharing complaints. Imagine being the intended target for the following tweet.
How many businesses do you know would ignore the taunting tweet?
Consider the following alternative.
Send a Direct Message, if connected
Respond with an apology and direct them to a specific contact to resolve their issue
@_________ I apologize. Please contact me directly so I can help you with your concerns. Thank you.
Offering a connection to a specific person is more powerful than referring the individual to customer service. After all, customer service is the problem.
Respond quickly
Professionally
Personally
#2 – The Product That Doesn't Work
Sometimes a product not working is in the eye (or hands) of the customer. For example, a non-techie person may not know how to install your product or the steps to make a feature work.
Of course, like it or not, there are times when your product does not work.
Again, the validity of the complaint does not matter
In the customer's eyes, your product is broken
How do you fix it?
The first step is in how you respond.
I'm sorry. I know that is very frustrating. Would you like me to send a replacement or would you prefer we refund your account?
If you can fix the problem (like the example of the installation problem), offer to walk the individual through the process.
I'm sorry. I know that is very frustrating. I would be happy to walk you through the installation. Would you like to try that first?
Have you picked up on the pattern?
3. The Seriously %#@*&! Off Customer
Answering a call from an angry customer is similar to a fire's backdraft. Digital interactions like an online rant or nasty email also singe.
Customer service representatives earn their stripes with these complaints. The professional who refrains from taking it personally is a rock star.
Allow the individual to rant/vent/release
Let the person know you are listening
Prove it by repeating their issues
Ask if you got it right
Apologize – empathize – help
Stay calm and accept responsibility.
I am very sorry we let you down with this product. I will do everything I can to resolve this quickly for you.
Positive Persuasion
Positive words = positive outcome.
Eliminate not our fault responses.
Good customer service accepts responsibility, regardless of fault. Beware of words that imply the customer is at fault.
Try − I am very sorry we let you down − instead of −
I am very sorry you have a problem
The customer may infer he or she is the problem from the second statement
Replace negative words.
Negative words trigger more negativity, especially in an already angry person.
Put a positive spin on negative words and phrases.
Negative − The refund won't be available immediately. It takes about 3-4 days for the bank to process.
Positive − I will process the refund now so your bank will have it as soon as possible for its 3-4-day processing cycle.
End on a positive note.
The following are a few phrases that leave customers smiling (or at least calmer).
I appreciate your patience
Thank you for your help in resolving this issue
Have I answered all your questions?
Is there anything else I can help you with today?
But above all − be sincere. Customers spot a phony every time.
What tips do you have for handling thorny tirades?
===================
Helping you Keep it simple, clear & uniquely yours – contact me for help with your business writing needs.
===================
Check out the second post of this three-part series, Customer Service Warning: When Speed Kills.