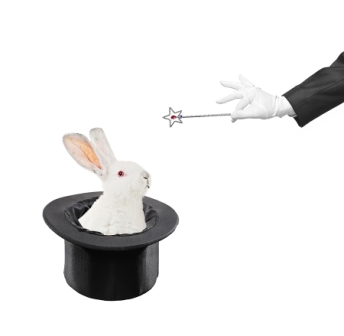 Remember the last time you attempted a do-it-yourself project?
Assembling furniture
Programming your smartphone
Setting up your first blog
Did the simple-to-follow instructions leave you feeling stupid?
You are not alone.
When you think about your business communication, remember that feeling.
No matter what the topic, it's new to someone – so keep it simple, clear & uniquely yours. Here are 3 writing tricks to help you do that.
Trick #1 – Can You Headline That?
This is an old trick I learned from my corporate training as a facilitator for group meetings.
Imagine you are responsible for capturing key points and writing them on a board. One of the participants has a point (you think), but goes on and on and on.
As facilitator, you ask the participant one question –
Can you headline that for me so I can capture the key points?
This technique forces the communicator to focus on the message – what's the point?
Can you headline your message from your communication?
Could someone else?
Make sure your business communication headlines your message.
And remember the 3 Es –  edit, edit, edit.
Trick #2 – Think Simple
One of my favorite bits by comedian, George Carlin, dealt with euphemisms – a milder expression of a harsh or offensive word or phrase.
George talks about the phrase shell shock. The term referred to a condition experienced by soldiers when their nervous system snaps from the stress of combat.
Here, according to George, is how the word evolved.
Shell shock
Battle fatigue
Operational exhaustion
Post traumatic stress disorder
While the routine focused on euphemisms, it also shows how we make the simple complex.
Use simple words to convey your message.
Why use words that cause confusion?
Keep your message simple and clear
There's a better chance you'll be heard
Think shell shock.
Trick #3 – Child's Play
Look at how children learn to read.
They start with the basics – A, B, C
Pictures depict the words
They reinforce their skills through repetition
Your business communication should have the same elements.
The Basics
1. Have a beginning, middle and end to your story.
What's the problem, challenge or point of your story?
Describe the journey or solution.
What is your ending or outcome?
2. Explain new concepts. You may have been in the business twenty years, but your message may be new to the reader.
Spell out industry terms and acronyms
Define technical terms
Walk your reader through something new
Use Pictures
Don't you hate instruction manuals with no pictures? Or those with pictures that bear no resemblance to your product?
The right pictures drive home your message.
They help break down a process
They simplify complex concepts
They reinforce your message
They can evoke emotions
Reinforcement
Most children do not sit down the first time and start reading. They bring you the same books and go over the same story until they learn the words.
We adults are not so different
We are easily distracted
We need reinforcement
To keep readers focused on your message, provide them with reinforcement.
Remind readers of the problem or challenge
Summarize key points
Wrap it up with your ending or outcome
Bag of Tricks
We have to trick our brains to stay on track while reading.
Headline your message
Use simple language
Support and reinforce your message
What tricks do you have up your sleeve?
=====================
Helping you Keep it simple, clear & uniquely yours – contact me for help with your business writing needs.
=====================