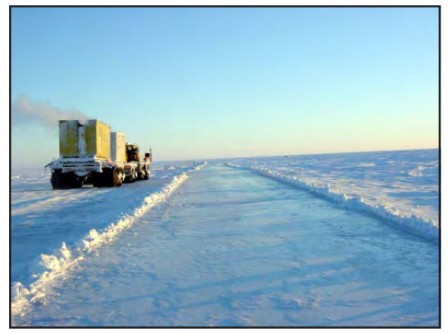 Have you seen the History channel's series, Ice Road Truckers?
I didn't know what it was until a client mentioned it.
Ice Road Truckers is a TV series about the perils of big-rig truckers who haul loads across dangerous frozen lakes and rivers of Canada and Alaska.
It's a wild ride.
In the strange way my mind works, the series inspired lessons you can use in your business writing.
Lesson #1 – Drive Outside Your Comfort Zone
Taking a different route
My main writing niche is healthcare-related.
The client who introduced me to Ice Road Truckers moved from a healthcare organization to a logistics service provider.
They specialize in providing the services required for moving goods throughout the global supply chain.
The client asked me to write for her logistics management company.
It was totally out of my element
I knew nothing about logistics and supply chains
It has been a great ride
I am learning something new every day and it is fascinating.
Taking a different route sharpens your business writing.
Moving into new territory
In one of the episodes I watched, a female driver moved from New York to Alaska.
She wanted to be an ice road trucker
She did city driving in New York
She felt she could handle anything Alaska threw at her
Boy, were her eyes opened.
Staying inside your comfort zone lulls you into complacency about what's ahead.
Moving into new territory wakes up your business writing.
Lesson #2 – Taking Skills for Granted Can Kill You
Many of the truckers on the show have years of experience.
The smart ones know not to take their skills for granted.
The greatest gift for business writing is learning new things. Experience is wonderful, but we can grow too comfortable in the knowledge.
It's like that ratty, old bathrobe – it feels good to wrap yourself in it, but sometimes your psyche needs a new silk wrap.
Combining skills with something new keeps business writing alive.
Lesson # 3 – It's About the Journey
Hauling goods from Point A to Point B seems simple enough.
Ice road truckers understand –
It's not about the destination
It's about the journey
Business writing sells – both internally and to our clients.
At times , we focus on the destination and miss the journey.
Consider the simple email message notifying participants about a meeting. Your end result (destination) is having the meeting.
You schedule a time
You reserve a room
You notify participants
If you remember that business writing is selling, you focus on the invitation (the journey) instead of simply having a meeting (the destination).
We are planning a meeting about the launch of our new product. We appreciate your efforts in helping us get to this point and think your input on this final phase would be extremely helpful.

We reserved Conference Room A for Monday, April 16, 2012 from 9:00 AM to 10:00 AM. Please let us know your availability.
Same destination – having the meeting.
But, by focusing on the journey, you might have fewer mishaps along the way, and you may even enjoy the ride.
Driving it Home
Whether you are a professional writer or a business owner who does your own writing, creativity is right around the corner.
Go outside your comfort zone to find it
Enhance the skills you have
Enjoy the ride
What are your road markers for successful business writing?
=====================
Helping you Keep it simple, clear & uniquely yours – contact me for help with your business writing needs.
=====================
Photo Credit: U.S. Department of the Interior Bureau of Land Management