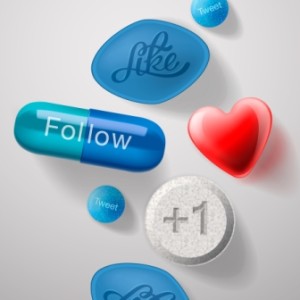 Social media strategy is a thriving business.
Specialists emerged
Books were written
Technology evolved
You have endless ideas on the right and wrong way to use social media.
As with most edicts in life, I find there is no right or wrong. Just different.
Social Media Pill-Popping
The sheer volume of content extolling social media strategy is like pill-popping medicine.
Suffering from too little exposure? Pop over to Facebook.
Need social media validation? We prescribe Klout.
Google rankings lagging? Stock up on Google +
All prescribed based on automated symptom-checks.
The situation reminds me of a discussion I had with my dad. It was probably a few decades ago. I had flown from my home in San Diego to visit Mom and Dad for Christmas.
I offered to paint their bathroom. To do so, we had to remove all of my dad's prescribed medications. They filled a deep shelf in the bathroom.
I asked Dad if he was taking all of those pills. He assured me some were prescribed only for specific conditions. Others were ongoing.
I was blown away by how many there were. My dad's physician at the time was old school. Have an ache, prescribe a pill – regardless of the medication my dad was already taking.
Instead of treating the whole, the physician treated the symptom – similar to what we do with social media.
A Contraindication in Treatment
In health care, a contraindication is a factor that changes a physician's treatment. For example, the doctor prescribes a different medicine because other medications the patient is taking would not work well together.
Off-the-shelf social media strategy strips businesses of their unique selling proposition, which may result in deadly side effects.
Prescribing Facebook as the marketing platform everyone must use is like saying all patients should take the same medication.
What if your target market hates Facebook?
Or uses Facebook for personal connections only?
Some could be quite annoyed if you inject your business into their personal time.
Treating the Whole
Whether you create your own social media strategy or hire someone to help, examine the whole.
Who is your targeted market?
Where do they hang out?
What are their communication preferences?
How do your products or services help them?
What is unique about your products/services?
Understand social media differences.
As discussed in LinkedIn's Clashing Cultures, platforms develop their own cultures. LinkedIn has different vibes than Facebook or Twitter.
Loyalist members have little patience for features or tactics carried over from another platform.
Picture your set of friends. Are some more outgoing than others? Perhaps some have liberal views while others are more conservative. If you are interested in continuing the relationships, you probably adjust how you interact with each friend.
Business networks have differences, too.
My unscientific LinkedIn poll revealed those connections expected a different networking experience from other social media platforms.
Just because you received several Likes in Facebook does not mean you should share your same wall posting on LinkedIn.
The Wholistic Approach
(For my editing buddies, pardon my play on spelling.)
If all businesses were identical, how would we ever progress? If Bill Gates and Steve Jobs did not compete (with two very different styles), would our current technology exist?
Our social media strategy should be as unique as we are
and the customers we serve.
Note the symptoms but consider the whole. There is no magic pill for success.
How do you prescribe your social media strategy?
====================
Helping you Keep it simple, clear & uniquely yours – contact me for help with your business writing needs.
=====================
The next several posts turn our attention to various social media platforms. I would love to hear your point of view. What are your favorite platforms and why?