LinkedIn is like every other social media platform.
It stores a ton of user data.
Have you ever wondered what kind of data they have on you?
Well, now you can get a peek inside.
LinkedIn Data
LinkedIn announced the roll out of new tools for securing your account data.
One of those tools allows you to download all the stored LinkedIn data specific to your account.
Do you want to have that stored data?
Maybe – maybe not
I'll let you decide
I received a zipped file with the information shown below. Most of the information is only from 2012 to 2014 (so far). I signed up in 2009.
Account information including when you signed up, login attempts (two-years-worth) and emails you provided (even the ones you deleted)
Marketing like ads you ran (I never have), data LinkedIn grabs from your profile for targeting, and any ads you clicked on
Group information including comments, "Likes"  you gave, and your posts to Groups
Networking data including your connections, endorsements you received and the skills listed, and recommendations you gave and received
Other interactions including your updates, and comments you posted on other updates or shared articles
There  is also a file on the search queries you have done.
Pretty boring stuff − or maybe it's me. Maybe my LinkedIn data is boring.
I did wonder if certain LinkedIn users saw their snarky comments, would it make them think twice about what they post? Probably not.
Where to Find the Data Download
If you have not hit the snooze alarm yet and are still interested in downloading your data, the following is how you do that.
1. Go to Account & Settings and click on Privacy & Settings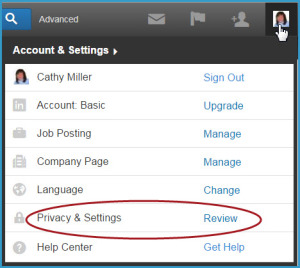 2. Click on Account (lower left corner)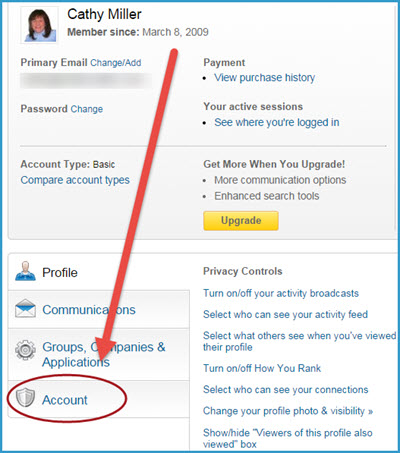 3. Under Helpful Links, click on Request an archive of your data

4. Click on Request archive button.
That's it. Simple.
What do you think?
Have I spared you wasted time?
Do you think it's worth the download?
=====================
Helping you Keep it simple, clear & uniquely yours – contact me for help with your business writing needs.
=====================