Words contain such raw power.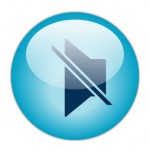 Words rally
Words comfort
Words define
Does your message release the power or unite in a symphony of silence?
A message heard ignites the power. 
Have you silenced the power?
There are 3 fatal flaws that kill the power of your message. How many do you recognize?
Fatal Flaw #1 – Mistaking noise for power
An assault on our ears is often mistaken for power.
The thunder before the lightening strike
The gunshot before the hit
The crash before the pain
While the noise might get our heart pumping, the real power is in what comes later.
TV commercials are notorious for confusing noise with power.
The volume leaps 20 decibels and you did not touch the remote
Advertisers want to make sure you "hear" them no matter where you are in the house
Commercials are why God invented the mute button.
TYPING ALL IN CAPS IS ANOTHER KIND OF NOISE
As is an excessive use of punctuation!!!!
Or Absolutely your last chance to overuse the #1 and best list of adjectives and adverbs – positively your last chance
Want your message heard – stop shouting at us.
We now return to our regularly scheduled post.
Fatal Flaw #2 – Hitting your own mute button
Speaking of mute, your message can fall victim to self-inflicted muting.
How?
You use terms only insiders know and hear
You ramble until even you nod off
You silence your creative side
You've muted the power of your message.
Put the sound back in your message
Keep it simple, clear & uniquely yours
Bring voice to your creative side
Fatal Flaw #3 – Looking for power behind a mask
To quote the master ~
To thine own self be true…

William Shakespeare
Masks are fun for Halloween and costume parties, but people know the person inside.
Hiding your message behind a mask is fun for only so long. Sooner or later, you have to remove the mask.
People do business with people they know.
The silence you want to hear is when the power of words leaves them speechless.
What other fatal flaws have you "heard"?
=====================
Helping you Keep it simple, clear & uniquely yours – contact me for help with your business writing needs.
=====================