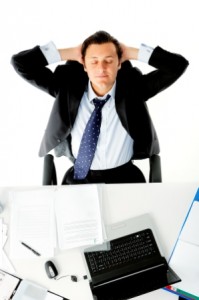 Responding to blog comments is good business.
It acknowledges the reader
It shows respect for their time
It helps build online relationships
It's logical, right?
So, why would someone ignore LinkedIn Answers?
Looking for Answers
LinkedIn's feature, Answers, allows members to post questions in several different categories.
I love the feature and use it for various reasons.
Networking by asking and answering questions
Obtaining suggestions/recommendations for technology/other topics
Help narrowing down resources
Idea generation for blog posts or new product/service
I enjoy the generosity of others who share their time and their experience.
Not responding to someone who takes the time is rude.
Heed the Call
On more than one occasion, I have responded to a question, only to receive deafening silence.
In a recent experience, the question related to health care reform – now there's a simple subject.
I responded
Checked my facts
Included links to resources
And nothing.
Lest you think this is a personal pity party, others responded and their answers went unacknowledged as well.
You can send a private message to a responder, but since I didn't receive a message, I assume the others did not receive one either.
This isn't the first time, and I understand life happens, but let's create a simple protocol.
Answer This
Some of the following suggestions are simple networking protocol for any platform.
We will review Answers from the perspective of those asking the question and those responding.
The Asker
Review all notifications of responses (sent to your Inbox)
Reply to each response
Clarify questions if there is confusion
Thank everyone for their help
If it makes sense, select a Best Answer
Sometimes, there is no Best answer.
You have an option to select multiple Good answers.
I am impressed with the number of quality responses I receive in Answers.  At a minimum, thank each responder.
The Responder
Share your experience, your knowledge
If you have resources, share links
If you are unclear about the question, ask for clarification
Don't use Answers as a platform for racking up responses
I don't understand members who spam Answers with nonsensical responses.
I guess it makes sense in their minds, but it is really annoying to the masses.
Q&A
See how simple that was?
Askers acknowledge and thank responders
Responders answer and share
What is your answer to the question ~
What suggestions do you have for LinkedIn Answers?
====================
Helping you Keep it simple, clear & uniquely yours – contact me for help with your business writing needs.
=====================
NOTE: I will be in San Diego from November 7th through November 20th. Part of that time will be spent walking 60 miles for the 3-Day Walk for the Cure.
I will respond to Comments as soon as I can. Walk on! And thank you.