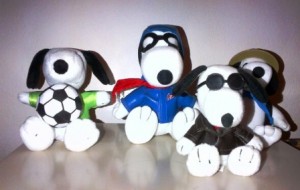 Even Snoopy casting shadows with the MetLife blimp over the 15th hole could not stop the Europeans from capturing the Ryder Cup in golf – again.
Snoopy – an American icon.
Have you heard the story of how MetLife scored one of the biggest coups ever –
Earning the right to use Snoopy and the Peanuts characters in their advertising?
The answer is simple – good customer service.
Not Branded About
Charles Schulz, the creator of Snoopy and the whole Peanuts gang, had a long run with his comic strip from 1950 to 2000.
The comic strip lives on in print's version of re-runs.
Schulz carefully protected the rights to his Peanuts characters. So, how was it that MetLife landed Snoopy and the gang in 1985?
The story is that Schulz had a policy with MetLife and appreciated the good customer service.
That simple – good customer service.
Making it Personal
If you are a creative type, you understand how very personal the Peanuts characters were to Charles Schulz.
"If you read the strip, you would know me. Everything I am goes into the strip…" quote from Charles M. Schulz Museum
The brand for your business is like that.
Your brand represents you
It is your ticket to credibility
Your brand connects you to your customers
Snoopy was more than a cute drawing to Schulz. Your brand should be more than a catchy tagline.
Sometimes, the challenges of running our businesses makes service more complicated than it needs to be.
Let's go back to the drawing board and sketch out the basics – like delivering good customer service.
Snoopy would tell you – success is really that simple.
Who is you favorite Peanuts character?
====================
Helping you Keep it simple, clear & uniquely yours – contact me for help with your business writing needs.
=====================
The photo shows a small sample of my Snoopy collection from MetLife from my days as an insurance consultant. How I miss adding to my stash.