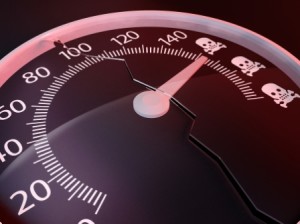 Seventy-six seconds.
That's the average time an online customer will wait.
We want information NOW.
Is it any wonder there are so many customer service complaints?
Can customer service be too speedy?
Does speed kill the customer service experience?
The following are customer-saving slowdowns to consider.
Customer Service Speed
Isn't technology amazing?
As a card-carrying boomer, I am amazed at the technological advances in my lifetime (so far).
The internet connection
Computers, laptops, tablets
Cell phones, smartphones
Software, apps, cloud computing
We forget what life was like without them.
However, with speed comes loss.
1. Speedy Solutions
Imagine you're in a speeding car.
You hurl yourself down the road
Scenery races by outside your window
Your eyes focused on the road ahead
You never notice the person sitting in the seat behind you. Their knuckles whitened with fear as they hang on to the chicken strap.
You are so focused on reaching your destination, you forget the person who is along for the ride.
That person could be your customer.
She calls with a problem
She'd like to explain it to you
You cut her off with solutions
Even if your solution is the right solution, your customer may feel left behind.
Maybe she had other questions
She may find your speedy response rude
There's a good chance she stopped listening once you cut her off
Kind of like road rage.
Slow down and listen.
2. Rush Delivery
Amazon may have set the standard for speedy delivery, which is basically get it there yesterday.
Rushing delivery can quickly become negative when the product or service is not all it's cracked up to be.
Those of us in the healthcare industry predicted the U.S. health insurance enrollment site, Healthcare.gov, was a trainwreck waiting to happen.
And happen, it did. Why?
Lack of quality control testing. Among other things.
If you have been involved in the implementation of an online system, you know stuff happens. An effective way to minimize problems is through thorough testing.
The time allotted for the roll-out of Healthcare.gov was insufficient −in my humble opinion (and the opinion of specialists much more knowledgeable than I am).
Another example of rush delivery gone bad is a certain WordPress plugin that shall remain nameless.
As quickly as you downloaded an update, another one popped up to fix the one you downloaded.
The rushed delivery left one tweeter asking a very valid question − Does @______ QA (quality assurance) at all?

 Slow down to deliver quality.
3. Speedy Standards
The above is through the eyes of the customer. Let's look at speed through the eyes of the customer service professional.
In my corporate career past, one of my roles was a project manager for customer service audits of insurance carriers and third-party administrators.
Common service benchmarks included:
Percent of calls answered within 20/30/60 seconds (varied by call center)
Percent of abandonment (the caller hung up before the call was answered)
Percent of first-contact resolution (no follow-up required from caller or representative)
Sounds like good factors to measure. However, the metrics tell only part of the story.
Your business' culture is a huge factor in customer satisfaction.
I remember management so focused on achieving benchmarks, they disciplined representatives who spent too much time with customers.
Yes, there is a need for balance between the time spent on a call and productivity. But what message do you send to the worker who understands that balance by criticizing the time spent?
Think it doesn't matter?
Gallup's State of the American Consumer Report 2014 shared this startling finding.
"Companies that engage both their employees and their customers gain a 240% boost in performance-related business outcomes."
Think back to that customer service representative. We'll call her Mary.
Mary handles a slightly lower number of calls than the office standard
Her call-backs are a bit higher than average
Mary receives the highest ratings from customers (many sending written thanks)
Mary has her review with her supervisor. Her performance is rated "unacceptable" for not meeting office standards.
How engaged do you think Mary will be?
Will future customers feel less satisfied?
"The moment that an employee connects emotionally with a customer is a source of untapped power that has profound implications on a company's productivity and profitability."
State of the American Consumer Report 2014
Slow down standards that are a bad fit.
Up to Speed
The impatience of our gadget-filled world fools some companies into thinking faster is always better.
Know when to slow down.
Listen
Deliver quality
Adjust standards
Knowing when speed kills customer service puts you on the path to success.
What slow-down suggestions do you have?
===================
Helping you Keep it simple, clear & uniquely yours – contact me for help with your business writing needs.
=====================
=====================
This is the second of a three-part series on customer service. If you missed the first, check out Positive Customer Service Responses for Three Thorny Tirades.