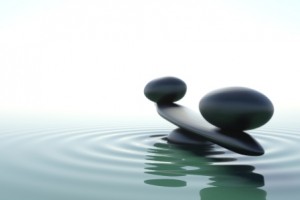 The noise from social media is deafening.
Share this
Sign up here
Score big
It's hard to believe I didn't join this social, sharing, speed-of-light world before late 2008.
But, the freelance nature of my business made ignoring social media self-sabotage.
Four years later I still struggle with obtaining social media Zen.
Social Media Zen
How do you silence the noise of social media to find your own Zen?
I'll share a few of my own methods
I welcome you to share yours
I call these my 7-S Strategy.
#1 – Sample first.
Who doesn't appreciate free samples?
You test-drive something new
Without the financial commitment
Free versions are your chance to sample the platform.
In fact, for most of the platforms, I stuck with the free version.
Besides the biggies – Facebook, Google+, LinkedIn and Twitter – the following are a few samples I tried.
Sampling feeds my need for learning new things.
#2 – Select what you like.
The whole idea of a sample is to determine if you like the product.
Don't buy what they're selling simply because everyone else is.
I have a natural aversion to following the crowd. It's a middle child of 7 syndrome.
So, I have no problem steering clear of platforms that don't work for me – no matter how popular they are.
Yet, I'm human. I admit there are times when I wonder if there is something I'm missing.
Does my aversion lead me astray?
Do others really know better than I do?
Is my lack of social media sophistication the problem?
Fortunately, that doubt doesn't last long.
As I always say ~
The great thing about plans – you can always change them.
Who knows? Maybe one day I'll be pinning with the best of them.
#3 – Schedule time.
Schedule social media time – e.g., the time of day, the time spent
Test-drive new platforms according to your schedule – not someone else's
If you are an early adopter and like being the first to the show, go for it.
But, if you have *ahem* aversions, who says you can't wait before signing on?
#4 – Slow down the bandwagon.
Waiting to act has additional benefits.
Bugs are worked out
Others review the pros and cons
The flash-in-the pan products disappear
Sign-up is streamlined (think moving beyond invitation only)
Tortoise and hare, baby,
#5 – Single in on one platform.
Multi-tasking isn't always what it's cracked up to be.
Try narrowing your focus to one social media platform.
Concentrating your efforts on a single platform produces better results.
Learning is enhanced
You achieve quality over quantity
You make stronger connections
Experiment with one platform for a few months or indefinitely.
The choice is up to you.
# 6 – Shut it down.
Despite our best management techniques, social media still overwhelms us.
When that happens – shut it down.
Take a break
Weed out the annoying
Regroup and create new strategy
For the most part, I limit weekend social media to personal use. No work on the weekend.
Now, if I could get others to stop sending me their Sunday messages.
Hello? Marketers? I'm relaxing here.
#7 – Search for your own Zen.
What defines your own Zen is unique as you are.
Don't let others define social media for you.
Sample first
Select what you like
Schedule time
Slow down the bandwagon
Single in on one platform
Shut it down
Search for your own social media Zen
How do you find the balance?
====================
Helping you Keep it simple, clear & uniquely yours – contact me for help with your business writing needs.
=====================