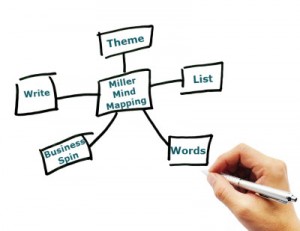 Do you want to go where no man has gone before?
Follow me to the depths of my twisted mind.
Be afraid
Be very, very afraid
One of my readers (and good friend, Anne Wayman) asked me to explain how I come up with blog topics like my 12 Days of Business Blog Post Ideas.
Simple – it's called Miller Mind-Mapping. 
Manual Mind-Mapping
I love online and software tools and mind-mapping has more than a few.
However, when it comes to a blog topic exercise, I find the ol' manual process works just fine for me.
If you're game, let's review how I came up with the 12-Day post (and ones like it).
#1 – Pick a Theme
Trust me. This is easier than it sounds.
The theme could be ~
Objects sitting in front of your face – like those on your desk, outside your door, wherever
Seasonal – pick one – summer, spring, fall or winter
A holiday – Christmas, Hanukkah, Thanksgiving, Independence Day, etc.
A favorite TV show – the entire Food Network has served me well
Use a famous quote – why not let the masters inspire you?
Don't overthink it.
It doesn't matter what you select – just choose a theme.
#2 – Make a List
It can be a mental list or you can actually jot down your theme results.
10 items from your desk
The season you selected
The name of your TV show
I'll leave it to you to decide if you subscribe to lists of 7, 10 or more.
#3 – Play off the words that pop
When you look at your list, what words pop out?
For my 12 Days of Christmas post, here are the words that popped out to me.
Partridge, pear tree
Turtle doves
French, hens
Birds
Golden
Geese, laying
Swans, swimming
Maids, milking
Ladies, dancing
Lords, leaping
Pipers
Drummers
To keep my mind from screaming too much information all at once, I took one gift at a time.
I write the ideas that come to mind from each gift
You might want to jot down all your ideas first
Whatever works best for you
#4 – Put a business spin on it
Since this blog is about business writing, I want to take the theme and words and put a business spin on blog post ideas.
Again, my style is to work each one as it comes. It helps me from becoming overwhelmed.
It may be the strange workings of my mind, but I find the exercise simple.
Free associate your words with ideas.
Partridge in a pear tree
Who expects to find a partridge in a pear tree?
Business Post Idea: Blog about something you found in your business that was unexpected
The partridge is like a bonus in your fruit tree
Business Post Idea:Blog about a time the fruit of your labor produced a bonus
What the heck would I do if someone gave me a partridge in a pear tree?
Business Post Idea: Write a post about how you handled receiving a business gift you didn't know what to do with
Now, do you understand the workings of my mind?
If not, you are not alone.
#5 – Pull out your list and write.
Congratulations.
You now have a list of business blog post ideas to inspire you when your brain has turned to mush.
Pick a theme
Make a list
Find words that pop
Use a business spin
Grab your list and write
It works for me – and I hope it works for you.
What methods do you use for mind-mapping ideas?
====================
Helping you Keep it simple, clear & uniquely yours – contact me for help with your business writing needs.
=====================