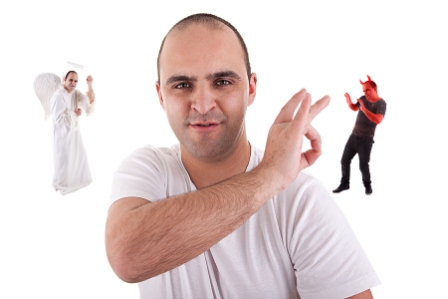 Admit it. We all have one.
That little Satan sitting on your shoulder, offering sarcastic social media bombs.
Your fingers scream with the urge to launch those mocking missiles
Come on – just one
If you're lucky, the shoulder angel intercepts.
The Devil Made Me Do It
I confess I often struggle with that shoulder Satan
Shoulder Satan is the source of sarcasm
Shoulder Satan makes you say things the angel never would
Sometimes you just have to let loose.
Bombs Away
Tweets
Top 10 Ways to Drive More Traffic to Your Blog
Top 10 SEO Tips
Top 10 Ways to Earn More Money Online
Satan Bomb – Wow-I swear I saw the same tweet 10,000 times
Spam
Great post!
Hey Shirley – just wanted to say I love your blog!
My husband told me I would love this post!
Satan Bomb – Post this! And don't call me Shirley!
I could go on – but, I have more respect for you.
As much as we want to give the devil his due, restraint is probably the better choice.
Satan bombs live on into eternity
Satan bombs are never forgotten
Satan bombs receive wider distribution
Hm, that last one doesn't sound so bad. And spammers deserve all the vitriol we can throw at them.
But, do you really want to go to war with a spammer?
In the interest of world peace, here are 7 Social Media Strategies for Strangling the Shoulder Satan.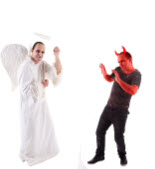 #1 – Picture your mother.
Nothing strangles a shoulder Satan better than picturing your mother as you shoot off those bombs.
If visions of your mother doesn't do it, picture some other person you admire
Mother Teresa, Gandhi, Martin Luther King
#2 – Picture your next client.
Here's the twist.
The recipient of that Satan bomb IS your next client
Effective, huh?
#3 – Imagine you're taken seriously.
Sarcasm is a slippery slope.
it easily slips from subtle to mean
It can back-fire on the sender, lending support to the target
Your meaning is often the opposite of what you say
Imagine if you are taken seriously.
Need an example? Try telling an airport security person you are hiding a bomb in your shorts.
At least with verbal sarcasm, you have the benefit of voice inflection.
Social media sarcasm silences the sound of a smirking smile.
#4 – Remember when you were new to social media.
I remember when I wrote what I thought was the most creative, innovative post – only to find it wasn't new.
It was new to me.
A Satan bomb is devastating to someone new to social media.
Maybe you did read the same tweet topic 10,000 times before
It doesn't mean it's not new to someone else
# 5 – Picture yourself as the target.
Whether you're a seasoned pro or a newbie, Satan bombs hurt. Put yourself in the shoes of the target and see how you like it.
Roll in the golden rule.
#6 – Think of the energy it takes for verbal warfare.
Maybe it's a getting older thing.
I find I do not have the energy to get into social media Star Wars. And you know that's what you're going to get with your Satan bomb.
#7 – Think of how you want to be remembered.
Do you really want to make your mark at the expense of someone else?
What's wrong with being nice?
Some would call that professionalism.
Oops – I think some Satan sarcasm sneaked in the back door.
How do you control the Shoulder Satan?
=====================
Helping you Keep it simple, clear & uniquely yours – contact me for help with your business writing needs.
=====================