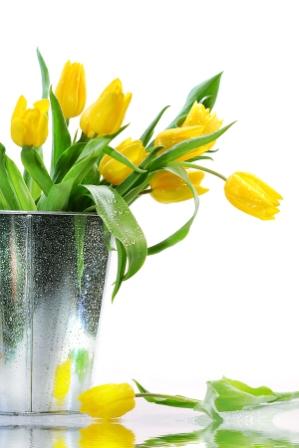 Springtime is a rebirth.
And, hopefully, a departure from winter's cold and snow.
We feel so good, we think about Spring cleaning. Well, some of us.
Before you haul out the garden tools, don't forget about another area in need of help – your social media activity.
Spring Cleaning List
Spring cleaning opens the door to springtime freshness. It's a time to reassess what you keep and what you throw out.
Do you have social media on your Spring cleaning list?
Has your social media activity withered?
Have you neglected upkeep?
Do platforms need a fresh coat of paint?
Try some good ol' Spring cleaning tactics to freshen up your social media results.
1. Clean out the junk drawer.
Open your Inbox. Is it cluttered with an overgrown list of newsletter subscriptions?
You thought signing up for that newsletter was a good idea at the time. When did that morph into an instant click and delete? And how did those uninvited subscriptions creep in?
Sort through the subscriptions
Get rid of the ones you never open
Find a spot for the subscriptions you keep
Next, take a deep, cleansing breath.
Is there any better feeling than an Inbox free of unwanted subscriptions?
2. Work in the garden.
Do you have a garden? Or did you have one in the past? Remember when you couldn't wait to start nurturing your garden?
Your back may ache
Knees may groan (especially if you're in my age bracket)
Clothes display the dirt evidence of hard work
But the results are so satisfying.
Think of your social media network like a garden with a winter hangover. It's time to spruce it up.
Plant new seeds in your social media network
Market new ideas, products, or services
Focus on what you want to grow this year
Pull the weeds that are choking your success
3. Prune the trees and bushes.
Mother Nature does a great job of transforming skeletal trees and bushes into bursts of foliage. But, sometimes she needs a helping hand.
Roses crave feeding
Fruit trees need trimming
Flowering bushes require pruning
Awaken your social media platforms with timely Spring pruning. Click To Tweet
Like your trees, bushes, and flowers, each social media platform has its own needs.
Discover what works best for each. You may need to sacrifice some to keep others growing.

Remove non-productive activity
Snip off dying platforms that are not producing
Allow new ideas to grow
4. Open the windows.
After being boarded up all winter, it's exhilarating to unlatch windows once more. Open the windows on your social media to find out what is happening right now.
Listen to the buzz of your neighbors and customers
Watch what chores they are doing
Discover ways to make their tasks simpler
Who doesn't want a helping hand with Spring cleaning?
5. Walk around outside.
We had an extremely bad winter this year. Multiple snowstorms and sub-freezing temperatures sent me to our local mall for my daily walks.
Now that I can walk outside (without resembling Nanook of the North), I feel like blooming tulips stretching with kaleidoscope joy.
Take a walk outside your winter comfort zone. Explore new beginnings in your social media activity.
Visit new ideas, products, or services
Drop in on old friends – reconnect with network contacts
Sit down on your porch and visualize the future
Read one of the social media books you've been meaning to
Springtime is the perfect time to breathe new life into your business, your blog, your new product, or service. Simply open the door to the possibilities.
What's on your Spring cleaning list?
Note: This post was originally published on April 20, 2011. In keeping with the theme, I felt it was overdue for its own Spring cleaning update.
=====================
Helping you Keep it simple, clear & uniquely yours – contact me for help with your business writing needs.
====================