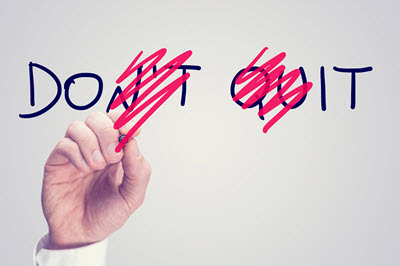 Language can be a tricky tool.
Wax poetic and it becomes the language of love.
Open the door to negative language, and it devours your intent.
Convert the Negative Naysayer into a Champion Crusader for better business communication.
The fourteenth post of our alphabetic journey through business communication exposes negative language and pampers it with positive alternatives.
Negative Business Communication
You care about the message you deliver with your business communication. The slightest language twist can make a huge difference in a reader's response.
I will admit that I often fall into the clutches of the Negative Naysayer – quite by accident. My positive Pollyanna persona shudders at the thought of a negative message.
But negative language is sneaky. It slips in on the heels of good thoughts and sprinkles its harsher tone.
Let's use litter as an example. Do you know anyone who likes litter? I have to believe that even those who litter, do not litter because they like to.
When I lived in San Diego,I frequently volunteered to remove litter from the beaches. How do you think the following flyer would be received?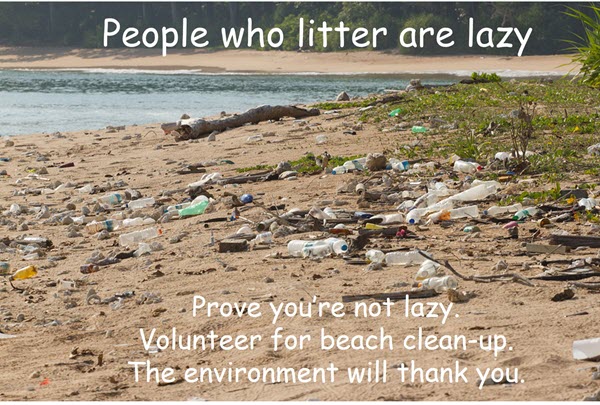 Beach cleaning is a good cause, right? Several people may agree with the above sentiment. However, calling people who litter lazy may not produce the response you want. It could result in even more litter. You know – just to tick off the do-gooders.
What if we put a more positive spin on our message?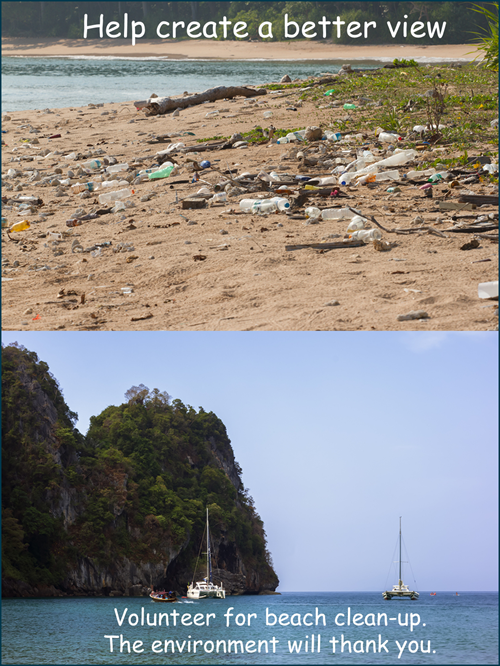 You may not convert people who litter but a few may think twice about it.
Alternatives for Negative Business Words/Phrases
To offer you more ideas, I created some examples of negative words and phrases with possible language alternatives. You can download a copy of Alternatives to Negative Business Words/Phrases.
A copy will also be available on my Free Stuff page and on my SlideShare account. There is a prior word list for Positive Words, too.
Does negative language creep into your business communication? What helps you weed out the Negative Naysayer?
Beach scenes also Big Stock Photo
==================================
Note: This is the fourteenth in a year-long alphabetic journey for better business communication.  We'll share topics from A to Z that keep business communication simple, clear & uniquely yours.
Get a front-row seat on the rest of the alphabetized business communication journey. Sign up for updates in the sidebar.
{ 8 comments }