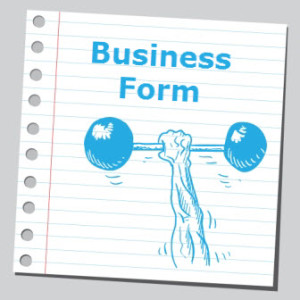 Every business has them – business forms for collecting information in all shapes and sizes.
Some are paper. Others are electronic. Done right, business forms can be one of your most valuable forms of business communication.
Our sixth post of our alphabetic journey through business communication offers tips for ensuring your business forms are in good shape.
Business Forms Fulfill
You may view business forms as a necessary evil. Or perhaps you don't give them much thought.
But when you think about it, business forms often deliver your customers' first impressions about your business.
Do your forms tick off customers?
Are customers baffled by your requests?
Don't you think this important form of business communication deserves your attention?
Tip #1 – Weigh the number of forms.
Do you know how many business forms are in use for your business? Depending on the size of your company, the number could be staggering.
List paper and online versions
Survey employees on the forms they use
A simple sign-up form is still a form.
Before you can ensure the quality of your business forms, check out the quantity.
Do you have multiple forms that duplicate the same data?
Are old versions still circulating among your employees?
Are some forms no longer applicable?
Tip #2 – Shed excessive forms.
We all hate to fill out forms. And while privacy may be a joke on us, some of us still balk at the invasive nature of some requests.
For example, I know you would love to have my phone number (and can probably find it easily); however, I usually decline to complete a form that requires my phone number.
I've been burned by sharing it to download a report, only to receive a smarmy sales call the instant I click "submit". I'll never understand how anyone considers that good marketing.
Step into your customers' shoes and review business forms with a critical eye.
What information is essential? (Name, email address?)
Consider eliminating all non-essential information.
Do you really need all your forms?
Do you already have access to the information? (In another form or in a customer database?)
Tip #3 – Maintain your forms.
Do you regularly review your marketing? Your business communication? How about business forms? Are the forms on your schedule for review?
If you're like most of us, you forget to take a look at the forms once they're published. I know I'm guilty of that.
Take inventory of your forms
Schedule a review of all forms
Conduct quality review before publishing forms
That last point is a simple step that can save you (and your customers) a lot of headaches.
Has this ever happened to you?
You encounter an online form
The form is fairly lengthy but you decide it's worth it
You fill out the entire form
You click on "submit"
Your data is wiped out and the submission does not go through
Can you spell FRUSTRATING?
Granted, stuff happens. But customers rarely blame the vendor you hired for the form faux pas.
Check and double-check the functionality of business forms.
Do you homework on vendors and software systems.
Have a plan to help customers when stuff happens.
Closing Form
The following lists additional tips for your consideration.
Provide customers with options, e.g., paper versus online
Review internal privacy controls on who has access to personal information
Assign roles and responsibilities for regular testing and reviews
Weave your personality into the form – business communication does not have to be boring
What tips do you have for better business forms?
Shout-Out
I thought I was brilliant when I planned face-to-face communication as the letter F in my alphabetic journey. Writer friend, Jake Poinier (aka Dr. Freelance) beat me to the punch.
Jake's post, 4 Rules of Face to Face Meetings for a Freelancer, addresses freelancers but there are good tips for any business. Check it out.
And a second and third shout-out to writer friends, Lori Widmer and Jenn Mattern, who offered a plethora of ideas for this post topic.
The best use of the letter F is found in Friends.
==================================
Note: This is the sixth in a year-long alphabetic journey for better business communication.  We'll share topics from A to Z that keep business communication simple, clear & uniquely yours.
Get a front-row seat on the rest of the alphabetized business communication journey. Sign up for updates in the sidebar.
{ 2 comments }