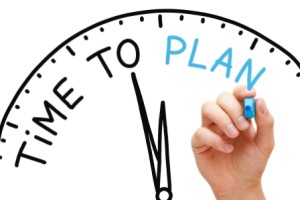 Fall is right around the corner and many of us set our vision on next year.
At least for our business.
We're not giving up on this year. We're simply planning ahead.
You are planning ahead?
Right?
Would you like a little help?
Over the next three posts, I'll provide you free copies of  business communication templates.
My Vision Template for You
The templates are from my work-in-progress book, Developing Your Business Marketing Plan: A 10-Part Plan for Success.
The title is also a work-in-progress.
What I found is the templates work for developing a marketing plan, a communication plan, a content marketing plan or whatever other trendy-term-of-the-day there is.
The book offers a step-by-step guide on developing your plan. It originated from my 10-Part post series on business communication and offers the following.
Part 1: The Vision to Make Success Happen
Part 2: I.D. the Killer Client
Part 3: Beating Blind Hog Objectives
Part 4: Bang for Your Buck Budget
Part 5: Steering the Communication Vehicle
Part 6: A Control Freak Guide to Roles & Responsibilities
Part 7: Top to Bottom Message
Part 8: A Champion Timeline
Part 9: Spinning Better Benchmarks
Part 10: Planning for the Unexpected
The book offers development tools, examples, templates for each part, and sample completed forms.
You get a sneak peek here at some of the templates.We start off with a Vision for my Business template form.
In the next two posts, I'll share the templates for:
Budgeting
Communication vehicles
Click to download your copy of the Vision for my Business template form.
Let me know in Comments what you think or if you have any questions.
P.S. Happy Labor Day to my U.S. readers!
=====================
Helping you Keep it simple, clear & uniquely yours – contact me for help with your business writing needs.
=====================
{ 3 comments }