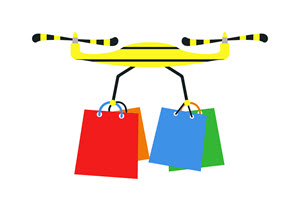 Are you a fan of Amazon? I love the Prime member's delivery service.
No costly shipping fees
And fast, too
The company's services created Amazon advocates of many of their customers.
Amazon explores ways for faster delivery, including the prospect of delivery drones. However, a recent Federal Aviation Administration (FAA) ruling may keep that idea on the ground.
Wouldn't it be nice if your business communication audience became your company's advocates?
Imagine the possibilities.
Employees rally in support – instead of water cooler whining
Customers sling praise – rather than social media salvos
You foster your own Amazon-like following
With consistent delivery of business communication basics, you, too, can cultivate true business believers.
Delivery Checkpoint
Delivering on business communication basics requires an understanding of the elements. Previous posts offered ideas, resources, and a template or two about each of the following elements.
You understand the basics. But, are you sailing along without a reality check?
Do you deliver on the basics?
While your business communication audience is probably not looking for drone-like delivery, they can be fickle. What do you think would happen if Amazon's fast service came to a screeching halt? Advocates remain loyal – to a point.
Delivery Stages
Think about your business communication. How do you know you deliver the goods?
Do you rattle off one-and-done drafts?
Do you dump and dash?
Click and forget?
Businesses that know how to deliver, gain a competitive advantage. They don't gain that advantage by chance. They always have a Plan B (and sometimes, C, D & E).
As anyone in the logistics business will tell you – stuff happens.
Mother Nature decides to shut down airports
Shipping addresses are mislabeled
Packages are damaged or lost
The art of logistics lies in planning, execution, and management. The same three stages influence how well you deliver on your business communication basics (as illustrated below).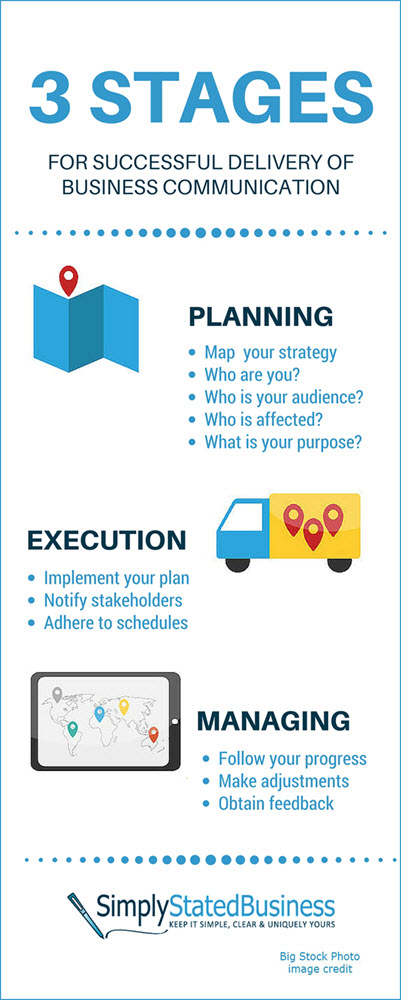 You can download a pdf copy of the above graphic.
Delivery Confirmation
Delivery confirmation of a physical product is easy. Carriers have sophisticated tracking processes.
But how do you know if you targeted the right audience?
Or if your product solves their problem?
The following offers ideas for confirming you delivered.
Who are you?
In case you haven't noticed, I like framing business communication with questions.
If you can answer the question, you can deliver the goods.
Your business product/service should answer a question your targeted audience has (even if they don't know they have it).
For example, in the beginning, few Amazon customers thought about purchasing books online. However, the site was so popular that CEO, Jeff Bezos, reported customers sent emails asking the retailer to sell music, DVDs, and electronics as well.
The question Amazon answered? How can shopping be more convenient, while providing a bigger selection and lower cost?
When you plan your business communication, ask yourself ~
What customer question does this answer?
On the other hand, maybe you are swimming in the wrong ocean.
Who is your audience?
Remember the post about the Shark Tank? Missed it? Go ahead and give it a quick scan. We'll wait.
In that post, you read about the Ionic Ear. While I doubt the inventor will find a market for that product, the Sharks often guide entrepreneurs into better markets.
You could have the right product, but the wrong target audience.
Start with this initial question.
Who benefits most from this product/service?
Narrow your target further by asking additional questions.
Who needs the product/service most?
Who is best able to pay for it?
Who is most likely to purchase more?
Who is affected?
Whether internal or external, there are several stakeholders in the planning, execution, and managing of your business communication.
The question for successful delivery is a simple one.
Who needs to know?
How Sharing Business Communication Could Save Your Life offered ideas and this template to help answer that question.
What is your purpose?
The final basic element identifies the purpose of your business communication. Without a purpose, your communication is like a space module that's become untethered from the main ship.
It floats endlessly in space
Sightings are by chance only
If it does land, it typically crashes
So, once you identify your purpose, you need a measurement of success. The following are examples of possible measurements.
If the purpose is sales, set a measurement target (e.g., 10% increase, sale of 400 units, etc.)
If the purpose is feedback, set a response rate measurement (e.g., 25% survey response rate, completed interviews with all employees, etc.)
If the purpose is compliance education, the measurement is the incidence of non-compliance following the communication
So ask the question ~
What were the results?
One Last Delivery
Long posts deserve visual aids. That's my philosophy.
As a result, I created one last visual delivery of ideas (as shown below). This one is also in a pdf format for your downloading pleasure.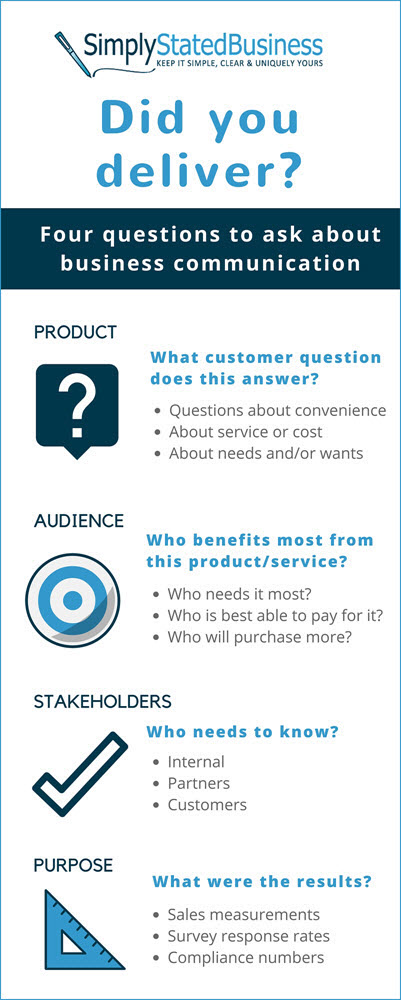 So, tell us. Did you deliver?
What tools/measurements do you use in assessing your business communication?
==================================
Canva credit for infographics
Note: Future posts will share various resources/tools for assessing delivery. Thanks for coming along for the ride. Sign up for updates in the sidebar.
{ 0 comments }