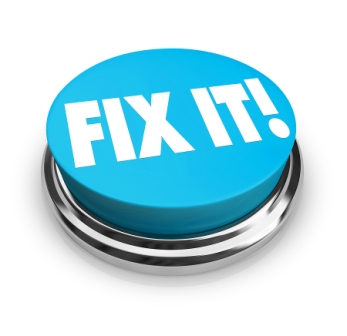 One good thing about online writing is the emphasis on simple.
Simple sentences
Simple layout
Simple reading
Here are five quick fixes to keep all your business writing simple.
Fix #1 – Edit for a single message.
Start by writing down the single most important message you want your readers to hear.
For example –
Message for this post – Keep your business writing simple
Message for a sales ad – The best widget on the market
Use that message for building your business communication. It's your litmus test for editing.
If you have multiple messages, cut back to one
Consider separate communication for additional messages
Use a single, simple message for all business writing.
Fix #2 – Repair the holes in your story.
Tell a story is a recommended technique.
Poor storytelling produces poor business writing – look for the holes in your story.
Does the beginning grab your reader?
Does the middle engage readers to keep reading?
Does the end leave the reader wanting more?
Fix the holes in your story for better business writing.
Fix #3 – Flesch out the simple word.
Imagine you are helping your child develop language skills. You don't use "baby talk," but you do use simple language.
Use simple language in your business communication.
While not perfect, the Flesch Reading Ease and Flesch-Kincaid Grade Level tools provide a snapshot for readability. The tests base scores on the number of words, syllables, and sentences.
The higher the score of the Flesch Reading Ease, the easier your writing is to read
The Flesch-Kincaid Grade level is based on U.S. grade levels so lower grades mean easier reading
Most word processing software (like Microsoft Word) include these tools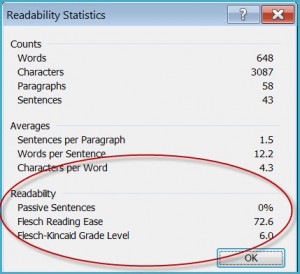 Replace more complex words with a simpler form.
Here are a few examples.
Start vs. commence
Give vs. disseminate
Help vs. facilitate
Limits vs. parameters
Next vs. subsequent
 Fix #4 – Use Numerals in Number Lists.
Sounds like double talk, doesn't it? Let me explain.
You read a line or heading that says Here are five ways to do this.
That's followed by bullet points
Or plain text – but, no numbers
Admit it. Do you find yourself counting the points to make sure there's five?
If you're not that nitpicky, I bet you do notice if there's NOT five points.
Numerals offer readers a simple roadmap for understanding key points.
Fix #5 – Spell it out.
Although a good story is a great technique, you don't want to keep your readers guessing.
Spell out acronyms
Spell out the meaning of technical terms
Spell out how readers can contact you
 Keep it Simple
There you have it – five quick fixes for your business writing.
A single message
A well-built story
A simple use of words
A roadmap for readers
A meaning that is spelled out
What business writing tips do you have?
=====================
Helping you Keep it simple, clear & uniquely yours – contact me for help with your business writing needs.
=====================