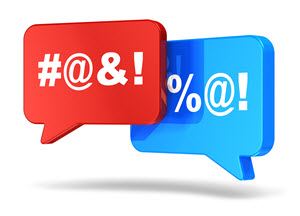 Have you ever been in a bad relationship? Well, Duh. Who hasn't, right?
Maybe you swore off relationships altogether. Although I bet that didn't last.
Now, think about your relationships with words. Don't think you have one? Sure you do.
Your words relationship makes or breaks those other relationships – the personal and professional ones.
Don't worry. I won't ask you to stretch out on the personal relationship counseling couch. I'd be more likely to share it with you.
I'll stick to the business side of your words relationship.
3 Signs You May Be in a Bad Words Relationship
A bad words relationship is like a bad personal relationship. It can be sneaky.
You think things are going great
In the beginning, it's all smiles
Then – WHAM – things turn ugly
What worked before, isn't working anymore. Maybe if you had seen it coming, you could have done something to save the relationship.
The video below offers you 3 signs that may alert you to trouble. See if you recognize any of them.
What Creates a Bad Words Relationship
Words are powerful. String together the right set of words and you can change the world. Or at least your little corner of it.
But words can trip you up, too, leaving you tongue-tied or desperately searching for the right words. That can be deadly to a business.
Let's look at what can take your business communication from brilliant to boring.

Our digital world is fast and furious. Who would believe a goldfish would have a longer attention span than us?
Because I can hear the goldfish snoring, I'll use a follow-up post to explore each of the above communication stumbles. I'll also offer some ideas and resources for fixing those problems.
Have you ever felt a dip in your words relationship? What signs popped up in your business communication?
Share your experience in Comments.
=====================
Helping you Keep it simple, clear & uniquely yours – contact me for help with your business writing needs.
====================
{ 4 comments }