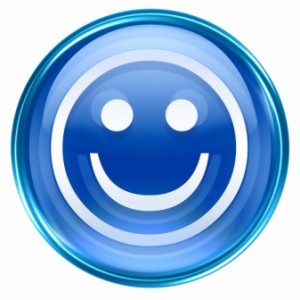 We like happy, smiling customers.
Keeping your customer smiling is easier than you think
Try simple gestures to keep them happy
Here are five ideas.
Tip #1 – Think Customer First
Sounds simple, right?
Sometimes we really hit it off with a customer
The relationship evolves into a friendship
When communicating – think customer first.
Remember their business needs
Steer clear of gossiping about other customers
Keep the dirty laundry in-house
It's great when a business relationship turns into a friendship. You already share common interests.
However, a customer – even one who has become a friend – feels uncomfortable with whining about your bad customers or your business problems. They may think twice about the business aspect of your relationship.
You can combine professionalism and friendship.
Tip #2 – Say Thank You Often
We assume, especially with long-time customers, that they know we are grateful for their business.
A simple thank you is like a warm greeting – customers feel appreciated.
Here are a few examples where a simple thank you goes a long way.
When you receive a request for a proposal
At the beginning AND the end of a new project
After your customer provides a referral or recommendation
When customers are timely in their responses
Bonus Tip – The "just because" thank-you gift really makes
customers smile.
Tip #3 – Same-day Acknowledgement
In today's 24/7 connected world, it seems strange that we would ignore a customer's call or email.
Yes, the sheer volume of communication is overwhelming.
Remember tip #1
Acknowledge every customer communication
Maybe the same day is an aggressive goal, but within 24 hours should be the norm.
It's really not that difficult. If you are unable to give them a final answer, that's okay.
Acknowledge the communication and give a time for follow-up.
Example: Thank you for your email. I am out of the office today, but will be happy to check on this when I return to the office tomorrow. Will that work for you? 
Nine times our of ten, your customer is happy to wait until you return to the office.
Another alternative is delegating it and sending an email to your customer and the person you are delegating it to. Include a note advising your customer to please contact you if there are any problems.
 Acknowledgement of customers' communication recognizes their value.
Tip #4 – Share Information Regularly
How do you feel when the only time you hear from vendors is when they are pitching their latest product?
It probably annoys you.
A simple way to stay in touch with customers is through the sharing of information.
It keeps your business in front of customers
It shows your support for their success
You can send –
Industry reports or articles
Information about new software (other than yours)
An invitation to a seminar or presentation they may enjoy
Use calendar or task software notifications to remind you to stay in touch.
Tip #5 – Provide Updates
We know business doesn't always go as planned.
Projects hit a roadblock
Shipping gets delayed
Unexpected problems come up
It happens to all of us – including your customer.
Regular updates diffuses potential stress points.
Your customers may not like the problems or delays, but if you keep them updated, it does wonders for everyone's blood pressure.
Tipped in Your Favor
Simple communication efforts keep customers happy and smiling. And that brings a smile or two to you, too.
What communication tips do you have?
=====================
Helping you Keep it simple, clear & uniquely yours – contact me for help with your business writing needs.
=====================