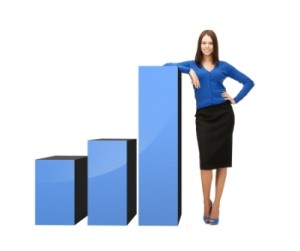 Do you hear the word statistics and yawn?
This cousin to math can get a bad rap.
Boring
Meaningless
Exaggerated
That last point may be true.
I've written more than one post regarding the danger of twisting statistics. I often share one of my favorite quotes.
"There are three kinds of lies – lies, damned lies, and statistics."
Mark Twain
But, let's look at how the judicious use of statistics creates better business writing.
#1 – Keeps business writing simple
You may look at our first point and think ~
What the heck?
How do numbers make writing simple?
Statistics add visual aid.
I think we would all agree that business writing peppered with statistics is seldom a simple read.
Depicting those statistics in a visual form helps simplify your point.
What better way to simplify my point than with an illustration?
The 2013 Kaiser/HRET Survey of Employer-Sponsored Health Benefit reported in the last decade, the average annual health insurance premium for family coverage increased from $9,068 in 2003 to $16,351 in 2013, an 80 percent increase.
Zzzzz – oops, sorry. Nodded off there.
Let's try this.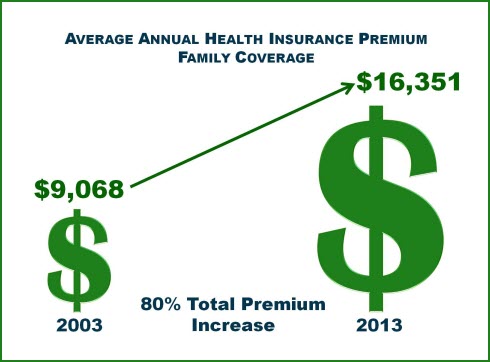 Okay, so it's not the greatest graphic. That's why God invented graphic artists, but you get the idea.
Use the power of statistics to visualize your point.
#2 – Keeps business writing clear
We fall into the trap of using vague descriptions in our business writing.
Statistics add perspective.
Consider the following example.
Most of the survey responses were favorable.
That's simple, right?
Perhaps.
How would your perspective change by inserting the following statistic?
Most (51 percent) of the survey responses were favorable.
Sure, 51 percent is most, but that statistic offers a different view than a result of 80 percent or 95 percent.
As my dad always said – everything's relative.
#3 – Keeps business writing unique
Two deadly words associated with business writing are boring and bland.
Rattled-off statistics bore readers
Offer readers your own unique spin on statistics
Try the Four – I formula.
Images + Infographics + Icons = Interest
On the other hand ~
Using bland words like many, most, some are like cooking without spices
Statistics add spice
Use your unique blend of statistics and words for better business writing.
How do you use statistics in your business writing?
====================
Helping you Keep it simple, clear & uniquely yours – contact me for help with your business writing needs.
=====================